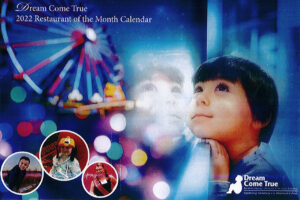 2023 Restaurant of the Month calendar has Sold out!
A thank you to everyone for making Dream Come True's Restaurant of the Month calendar a huge success!
We had a record-breaking sellout in 11 minutes this year.
While we wish we could print more, we are limited to the capacity of the restaurants.
Calendars will be shipping by end of November.
Thank you to our Restaurant Participants:
January – Blue Grillhouse bluegrillhouse.com
February – Youell's Oyster House youellsoysterhouse.com
March – Torre torrerestaurant.com
April – Morgan's morgansrest.net
May – Westside Grill https://www.westsidegrillpa.com
June – Yianni's Taverna yiannistaverna.com
July – Ocean 235 ocean235.com
August – Melt Grill meltgrill.com
September – Madeline's madelinesfogelsville.com
October – Adagio Seafood seafoodadagio.com/
November – The River Grille rivergrilleeaston.com/
December – Ye Old Spring Valley Inn yeoldesvt.com
Welcome Westside Grill for 2023 – Joining our already blockbuster team of returning restaurants.
Don't forget to register your calendar in order to receive updates and be the first to know when the 2024 calendars are available!
https://dreamcometrue.org/m5a5 or the QR code: